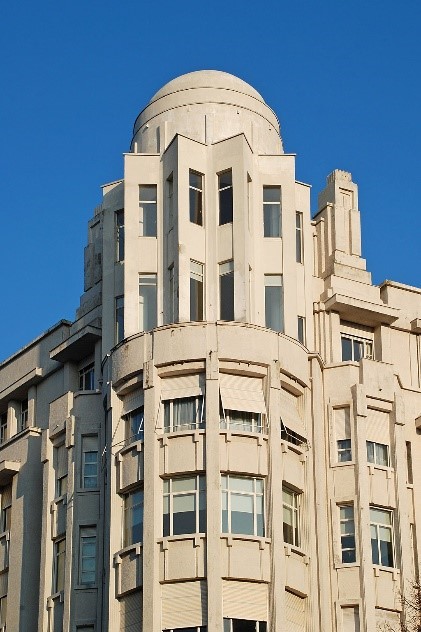 DATE: Thursday 12th and Friday 13th September, 2019
TIME: meet-up and breakfat at 9:30 am, workshop at 10 am to 4pm each day, with free time for midday break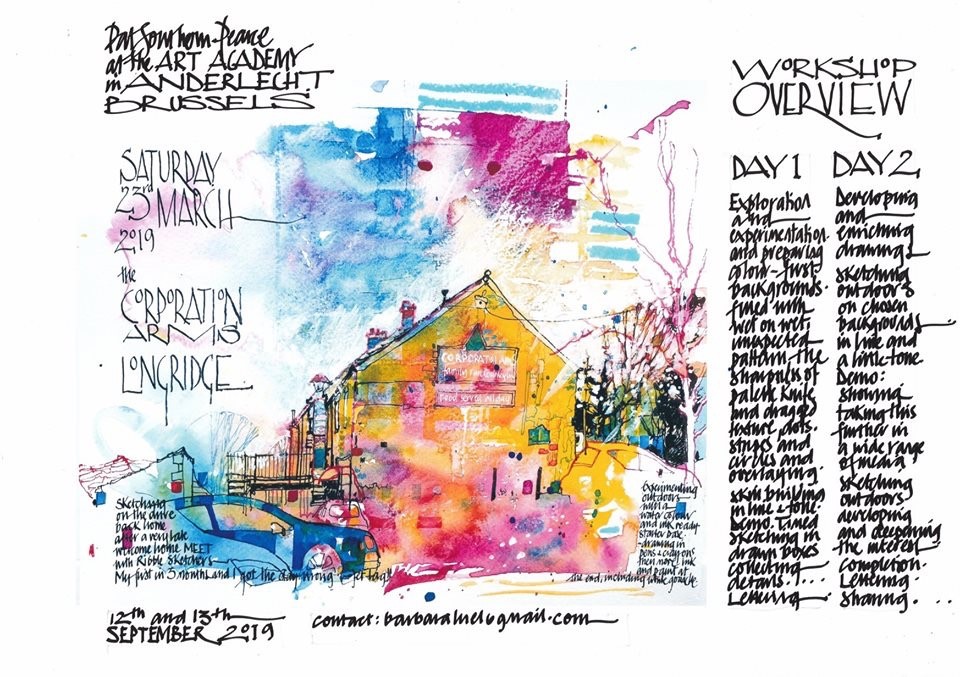 LOCATION:
Hub in « Palais de la Folle Chanson »,
A listed Art Déco building close to the University, the Abbey of La Cambre, the park of La Cambre, listed Art Nouveau villas.
ADDRESS: 1 avenue de la Folle Chanson, 1050 Brussels (Ixelles)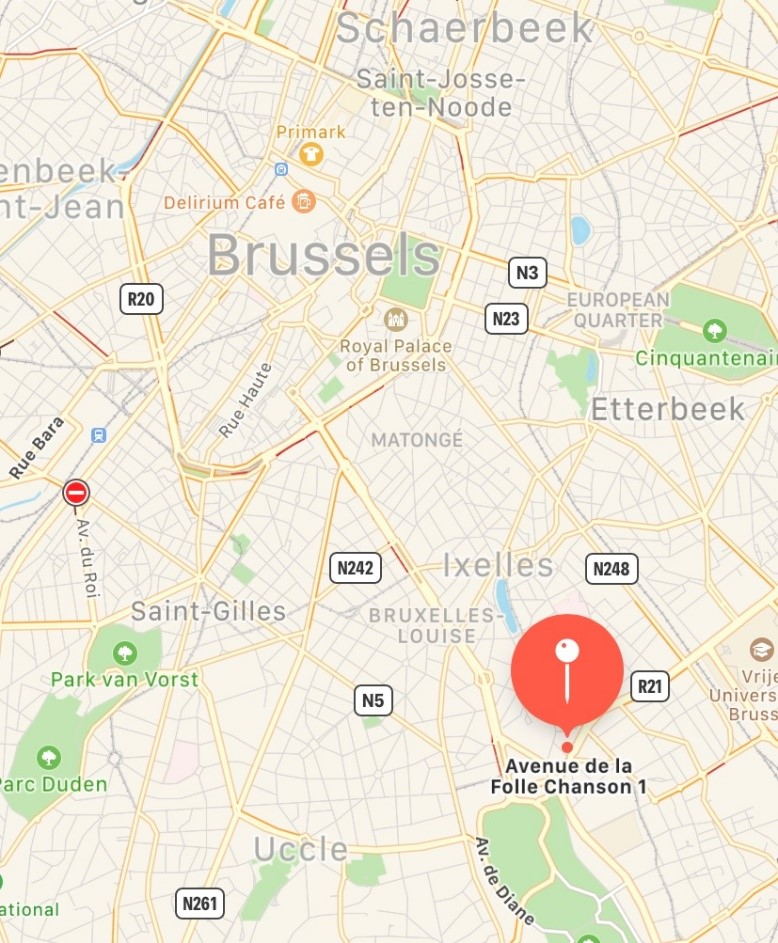 HOW TO JOIN:
SEND a mail to nrenotte@me.com
RECEIVE Booking form & payment info
PRINT & FILL the Booking form
PAY
SEND form + proof of payment nrenotte@me.com
RECEIVE confirmation. Your participation is now secure!

WORKSHOP OVERVIEW
This is an exciting, brand new workshop and a chance to try out and explore Pat's new approach, inspired by the brightness and glow of colours on her recent 3 month long stay in Australia.
You'll be working on a white ground in inks, watercolours, watercolour drawing media of different kinds and pens, including sparklly ones. Such a fun way of working!
Day 1: Exploration and Experimentation
Preparing colour-first backgrounds, filled with wet-on-wet unnexpected patterns, the sharpness of palette knife, and dragged texture dots, stripes and circles and overlaying.
Skill building on line and tone.
Demo.
Time sketching in drawn boxes.
Collecting details…
Lettering.
Day 2: Developing and enriching
Sketching outdoors on chosen backgrounds, in line and a little tone.
Demo: showing taking this further in a wide range of media.
Sketching outdoors: developing and deepening the interest.
Completion. Lettering. Showing.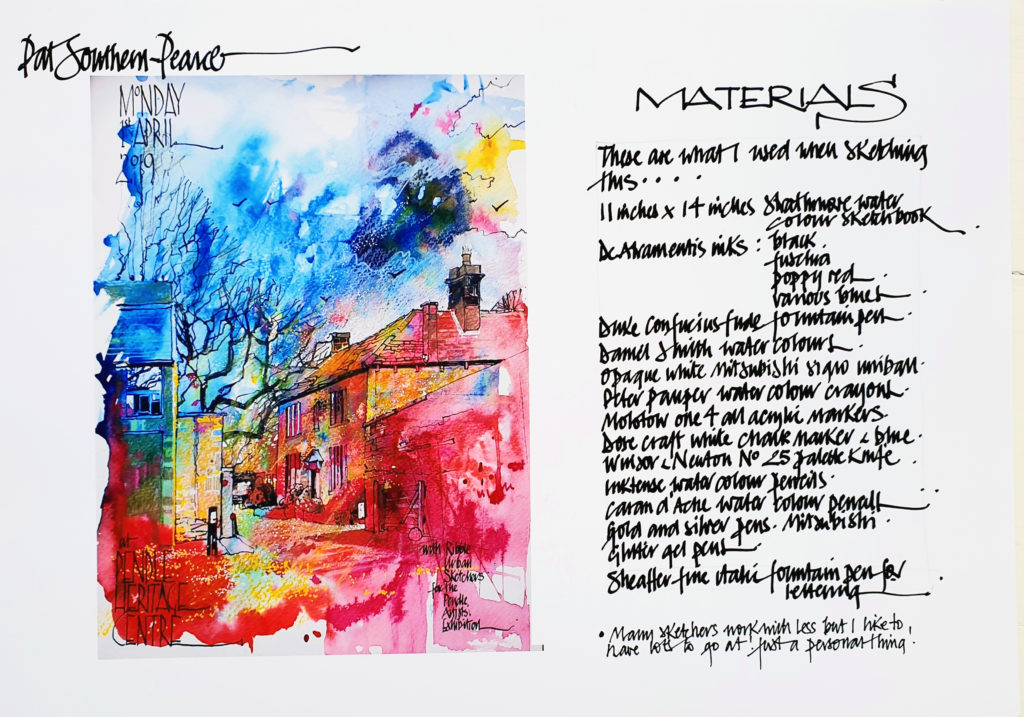 MATERIALS
Don't forget: foldable stool or seat, sun or rain gear suitable for outdoor depending on the weather, comfortable footwear, phone/camera, drinking and painting water.
We'll provide a concertina watercolour sketchbook. Bring your own in addition if you like, inks, pens, pencils, crayons, watercolours and all the bright media that you want to use!
For this sketch Pat used (indicative: Pat likes to have lots to go at. Many sketchers work with less, it's a personal thing. Bring your favourites and we'll share)
Strathmore 11×14 inches Watercolour sketchbook
De Atramentis inks: Black, Fuschia, Poppy Red,…
Duke Confucius Fude fountain pen
Daniel Smith watercolours
Mitsubishi Signo Uniball pen: Opaque white, gold, silver
Peter Pauper watercolour crayons
Molotov one-4-all acrylic markers
Dose craft white chalk marker and blue
Windsor Newton n°25 palette knife
Inktense watercolour pencils
Glitter gel pens
Sheaffer fine italic fountain pen for lettering

ADDITIONAL INFORMATION:
LANGUAGE: the workshops will be taught in English.
TRAVEL:
Participant are to make their own travel arrangements. If you're arriving the night before, let us know!
By train: THALYS, TGV and EUROSTAR fast trains arrive in BRUXELLES-MIDI (BRUSSELS SOUTH) station, easily connected to the center by metro and to the workshop hub by tramway (lines 7 or 8- stop Cambre-Etoile)
Regular trains also arrive at Bruxelles-Central station. Bruxelles-Nord's connection is not so convenient.
By plane: BRUSSELS airport (Zaventem) is connected to Brussels by frequent trains (20 minutes). BRUSSELS-SOUTH (Charleroi) airport is connected to Brussels- South station by coaches which can take over 90 minutes in case of trafic.
By car: pay attention to the heavy trafic in Brussels during peak hours. There is a fee for street parking, also limited to a couple of hours which can be inconvenient: better leave your car at your hotel, in a parking garage or, if you're local, at home.
ACCOMODATION:
Participant are to make their own sleeping arrangements.The best (and most pleasant) choice of hotels and hostels are in Brussels city center.
LUNCH & DINNER:
We will break at midday for lunch, for each participant to pay for. We will arrange reservation at kick off each morning. No dinner arrangements are planned – we'll see on the spot!
GROUP PHOTO: will be arranged at the end of the workshop.
TO CONTINUE
This is linked to the Urban Sketchers Belgium's event on the Heritage week-end (september 14-15), same location, when Pat will be doing demos and sketch with everyone – check info at urbansketchersbelgium.be.