Insider : un symposium vu de l'intérieur.
Par Sonia Vande Velde
Ils reposent entre mes mains. Criant, rouges, neufs. J'ai chaud, je suis nerveuse et je ne sais pas trop de quel côté aller. Je regarde autour de moi, on me regarde, je souris. Au milieu de cette église désacralisée au centre d'Amsterdam, je réalise soudain que ce symposium sera très différent pour moi. Ces t-shirts que je sens déjà se froisser un peu entre mes doigts vont me projeter vers l'avant, faire de moi une  balise humaine. Le pass autour de mon cou achève de me classer : « Volunteer ».
C'est le D-day, la journée d'ouverture du 10ème Symposium Urban Sketchers. Durant les 4 prochains jours, je vais déployer mon énergie pour ces centaines de sketchers qui convergent déjà vers le nouveau centre temporaire du monde. Zuiderkerk. [Zou-der-ke-rik], avec l'accent. Le hub.
Il est presque midi et Marleen s'adresse aux visages souriants alignés face à elle. Une armée de 60 volontaires de très bonne humeur, curieux de l'expérience à venir. Certains sont déjà sur le pont depuis matines, leur travail fait déjà impression dans les rangs : 660 goodie-bags remplis en 20 minutes. Ovation. Et le ton est donné : l'organisation est huilée, sans accroc, efficace. Après les explications générales, les consignes spéciales « canicule » et une série de questions/réponses, il est temps de faire place nette : dans deux heures, les inscrits vont arriver pour retirer leur pass et leur goodie-bag. Je retourne me poser un peu à l'hôtel, prendre une douche et profiter pour déballer ces fameux goodies en avant-première. Quelle moisson, les sponsors ont été généreux, des crayons, des carnets, des feutres, des fineliners, des aquarelles, encore et encore.
Je finis par ressortir, direction lunch ! On croise des têtes connues partout dans les rues, le long des canaux, aux terrasses des cafés… Encore un croquis et il est temps pour chacun d'aller s'enregistrer et découvrir le marché de fournitures artistiques, placer les premiers tampons « Adam » dans ses carnets. Les files d'enregistrement sont résorbées en un rien de temps, les sacs et les yeux s'ouvrent grand, la nef de l'église se remplit progressivement.
18h30 : c'est mon premier « duty » ! j'enfile un des fameux t-shirts rouges, direction l'entrée, je suis « usher » pour la soirée. Sint-Peter-at-the-Gate. Bouncer. Les détenteurs de pass sont les bienvenus ce soir. Les autres à partir de demain matin. Les gens passent, Julia et moi sourions « Hello, welcome, hello, hey nice to see you, good evening do you have your pass, thank you so much, enjoy the party » tout est fluide, la soirée débute. Ah! Ce petit sentiment d'être un peu en recul, nous ne voyons les discours de bienvenue que de loin…
Puis les sketchers entament leur exode hors de l'église, direction l'Amstelhoek. Des yeux qui sourient, de nombreux merci, les esprits sont hauts, l'énergie positive, on en reçoit à pleine brassée. Je me sens à nouveau remplie. Une fois l'église vidée, un coup de balais et replier les chaises, tout est prêt pour le lendemain.
Jour 2. Direction le premier « morning briefing ». Les choses sérieuses vont débuter, c'est le premier « vrai jour » de symposium. Il est 8h. Marleen, Gail et René se succèdent pour nous donner un maximum d'informations. On défile ensuite devant eux pour récupérer nos feuilles de route et les panneaux que nous ne pouvons pas utiliser au-delà du périmètre de l'église : les tours guidés sont strictement règlementés par la ville et les licences coûtent cher. Mon « duty » du jour, je le partagerai avec Natasha : encadrer le Sketchcrawl n°2 « Spui ». 9h45, café et thé en main (oui, il fait chaud, mais les réflexes ont la vie dure), nous attendons nos sketchers de pied ferme. Lorsqu'ils arrivent, nous les envoyons étoiler le long de l'itinéraire et leur fixons rendez-vous sur place à 13h. Lorsque le flot se tarit, nous entrons dans le béguinage, calme, frais, et plongeons dans nos sketchbooks. A 13h, nous rassemblons les carnets, il en vient sans arrêt ! Une photo de groupe et nous dispersons le monde. Et voilà, je suis libre pour le reste de la journée.
Jour 3. Réveil difficile, je flotte vers le second « morning briefing ». On sent la fatigue gagner l'équipe, heureusement l'organisation devient déjà une routine et déjà on attrape nos panneaux. Aujourd'hui, j'encadre le Workshop de Jim Richards « Draw with abandon », tout un programme. Le bras en l'air au milieu de la foule qui s'épaissit, je fais la connaissance de Patti, l'épouse de Jim, puis de Jim himself, et des sketchers qui forment un cercle. 9h45, il me manque un participant. Le groupe s'éloigne, direction le Spui (one more time !). J'attends encore le quart d'heure académique, retourne mon panneau et rejoint le groupe. En écoutant les explications de Jim, je surveille les sacs, les gens, les voitures et les vélos. Le groupe est à l'ombre, il fait déjà chaud. Une sketcheuse s'eloigne, je vais voir si tout va bien, elle souffre du monde et de la chaleur, va prendre le frais dans un café. Après une heure, tout est calme, je me pose pour rattraper l'exercice. Amusant ce lâcher-prise, le dessin rapide, quelques couleurs, je suis contente. Encore quelques conseils, un dernier exercice, les élèves s'éloignent pour la photo de groupe. Il est temps de revenir au Hub. Libérée pour le reste de la journée, je lunche, vais sketcher tranquillement avant de capituler face à la chaleur incommodante. Je rentre prendre le frais à l'hôtel ou je culpabilise très vite de perdre mon temps. Je ressors alors qu'il fait quelques degré plus acceptables sketcher seule un jardinet extraordinairement fleuri.
Jour 4. Le réveil est très compliqué. S'y mêle le sentiment un peu anxiogène d'avoir trouvé son rythme mélangé à la prise de conscience que le dernier jour est déjà débuté. Le dernier « morning briefing » n'est plus qu'une formalité. Ce matin, j'encadre « Green façades of Amsterdam » donné par Monika Wolk. Lorsque j'atteins le petit square caché bordé par un canal, je remarque une scène d'une grande douceur : un très gros chat à poils longs accompagne d'un pas calme et nonchalant la balade de sa maîtresse, une vieille dame très longue qui se déplace avec une tribune de marche. C'est un moment lumineux dont je n'arrive pas à décoller le regard. Finalement le duo retrouve ses pénates, je profite de l'ombre et de l'absence de passage pour me concentrer sur le workshop. La végétation est toujours problématique, je suis avide des réponses, l'attribution est donc parfaite. La matinée défile dans une atmosphère de paix et de silence apaisante après l'agitation récente. Le workshop s'achève, j'ai trouvé des réponses et un buisson de fruits teintants que je reviendrai chercher le lendemain dans un récipient.
Le Hub est nettoyé. Bientôt il sera temps de converger vers le Nemo pour la photo finale, puis vers la soirée de clôture où Hong Kong est désignée comme hôte du 11ème Symposium.
Je n'arrive pas à m'en aller, je me suis attachée à mes T-shirts rouge.
Jour 5. J'enfile un T-shirt rose pour une transition douce. Il est 8h, je vais avoir l'occasion de prendre un vrai petit déjeuner à l'hôtel. Il faut prendre le train, traverser la pluie, rentrer, déboucler sa valise et songer à tout ranger.
Jour 6. Je marche vers la gare, il est 7h36. Bruxelles dans le soleil semble bien grise et en foulant le pavé poussiéreux, j'ai la nostalgie des briques rouges et des canaux fleuris… J'ai l'impression d'avoir rêvé. Je porte un T-shirt rose plus pâle. Demain il sera bleu.
Insider: een symposium van binnenuit gezien.
 Door Sonia Vande Velde
Ze liggen in mijn handen. Schreeuwen, rood, nieuw. Ik heb het warm, ik ben nerveus en ik weet niet echt welke kant ik op moet. Ik kijk om me heen, mensen kijken me aan, ik glimlach. In het midden van deze ontheiligde kerk in het centrum van Amsterdam realiseer ik me plotseling dat dit symposium voor mij heel anders zal zijn. Deze t-shirts die ik al een beetje tussen mijn vingers voel afbrokkelen, zullen me naar voren gooien, waardoor ik een menselijk baken wordt. De pas om mijn nek eindigt met het classificeren van mij : "Vrijwilliger".
Het is de D-day, de openingsdag van het 10e Urban Sketchers Symposium. De komende 4 dagen zal ik mijn energie steken in deze honderden schetsers die nu al samenkomen in het nieuwe tijdelijke centrum van de wereld. Zuiderkerk. De hub.
Het is bijna middag en Marleen spreekt de lachende gezichten aan die voor haar staan. Een leger van 60 vrijwilligers in een zeer goed humeur, nieuwsgierig naar de komende ervaring. Sommigen van hen zijn al sinds de ochtend aan dek, hun werk is al indrukwekkend in de rijen: 660 goodie-bags gevuld in 20 minuten. Ovatie. En de toon is gezet: de organisatie is geolied, soepel en efficiënt. Na de algemene uitleg, de speciale "hittegolf"-instructies en een reeks vragen en antwoorden, is het tijd om de lucht te ontruimen: over twee uur komen de deelnemers hun pasjes en goodiebags ophalen. Ik ga terug naar het hotel, neem een douche en maak van de gelegenheid gebruik om deze beroemde lekkernijen uit te pakken. Wat een oogst, de sponsors waren gul, potloden, notitieboekjes, markers, fineliners, aquarellen, steeds weer opnieuw.
Ik kom er eindelijk uit, lunchrichting! Overal op straat, langs de grachten, op de terrassen van cafés ontmoeten we bekende hoofden…. Een andere schets en het is tijd voor iedereen om zich in te schrijven en de kunstmarkt te ontdekken, de eerste "Adam"-zegels in zijn notitieboeken te plaatsen. De wachtrijen werden in een mum van tijd ingekort, de wallen en ogen gingen wijd open, het kerkschip vulde zich geleidelijk aan.
18.30 uur: het is mijn eerste plicht! Ik trek een van rode t-shirts aan, richting de ingang, ik ben "usher" voor de avond. Sint-Peter-at-the-Gate. Bouncer. Houders van een pas zijn vanavond welkom. De anderen van morgenochtend. Mensen komen langs, Julia en ik glimlachen: "Hello, welcome, hello, hey nice to see you, good evening do you have your pass, thank you so much, enjoy the party" alles is vloeibaar, de avond begint. Ah! Dit kleine gevoel van een beetje achterop te raken, zien we alleen de welkome toespraken van veraf….
Toen begonnen de schetsers hun uittocht uit de kerk, richting Amstelhoek. Glimlachende ogen, veel dank, geesten zijn hoog, positieve energie, we ontvangen het in volle lading. Ik voel me weer gevuld. Als de kerk leeg is, een veeg van de bezem en klap de stoelen op, is alles klaar voor de volgende dag.
Dag 2, richting de eerste ochtendbriefing. Serieuze dingen staan op het punt te beginnen, dit is de eerste "echte dag" van het symposium. Het is 8:00 uur 's morgens. Marleen, Gail en René volgen elkaar op om ons zoveel mogelijk informatie te geven. We paraderen dan voor hen uit om onze wegenkaarten en borden te verzamelen die we niet buiten de kerk kunnen gebruiken: rondleidingen worden strikt geregeld door de stad en vergunningen zijn duur. Mijn "plicht" van de dag zal ik met Natasha delen: het toezicht houden op de Sketchcrawl n°2 "Spui". 9:45 uur, koffie en thee in de hand (ja, het is warm, maar de reflexen hebben het moeilijk), we wachten met een stevige voet op onze schetsen. Als ze aankomen, sturen we ze langs de route en maken ze om 13.00 uur een afspraak voor een afspraak. Als de stroming opdroogt, gaan we het begijnhof in, rustig, fris, en duiken we in onze schetsboeken. Om 13.00 uur halen we de notitieboekjes op, ze komen de hele tijd! Eén groepsfoto en we verspreiden de wereld. Voilà, ik ben de rest van de dag vrij.
Dag 3, moeilijk ontwaken, ik zweef naar de tweede ochtendbriefing. We voelen de vermoeidheid het team winnen, gelukkig is de organisatie nu al een routine aan het worden en vangen we nu al onze signalen op. Vandaag leid ik Jim Richards' workshop "Teken met overgave", een heel programma. Met mijn arm in de lucht in het midden van de verdikkende menigte ontmoet ik Patti, de vrouw van Jim, dan Jim zelf, en schetsers die een cirkel vormen. 9:45 uur, ik mis een deelnemer. De groep vertrekt richting Le Spui (nog een keer!). Ik wacht nog steeds op het academisch kwartier, draai mijn panel om en sluit me aan bij de groep. Terwijl ik luister naar Jim's uitleg, kijk ik naar de tassen, de mensen, de auto's en de fietsen. De groep is in de schaduw, het is al warm. Een schetskunstenares loopt weg, ik zal kijken of alles in orde is, ze lijdt aan de wereld en de hitte, neemt een pauze in een café. Na een uurtje, alles is rustig, ik neem plaats om de oefening in te halen. Genietend van deze release, de snelle tekening, wat kleuren, ik ben blij. Nog een paar tips, nog een laatste oefening, en de leerlingen gaan weg voor de groepsfoto. Het is tijd om terug te komen naar de Hub. De rest van de dag vrij, lunch ik, schets rustig, voordat ik me overgaf aan de ongemakkelijke hitte. Ik ga terug naar het hotel om me fris of snel schuldig te voelen omdat ik mijn tijd verspild heb. Ik kom er dan uit dat het een beetje acceptabeler is om alleen al een buitengewoon bloeiende tuin te tekenen.
Dag 4. Het ontwaken is erg ingewikkeld. Er is ook het ietwat angstige gevoel dat je je ritme hebt gevonden, vermengd met het besef dat de laatste dag al begonnen is. De laatste ochtendbriefing is nu slechts een formaliteit. Vanochtend ben ik bezig met het inlijsten van "Groene gevels van Amsterdam" van Monika Wolk. Als ik op het verborgen pleintje aan de rand van een kanaal kom, zie ik een heel lief tafereel: een heel grote langharige kat begeleidt de wandeling van zijn baserin met een rustige en nonchalante stap, een heel lange oude dame die met een wandelstok rondloopt. Het is een lichtgevend moment van waaruit ik mijn ogen niet meer van me af kan houden. Eindelijk is het duo weer op de been, ik profiteer van de schaduw en het gebrek aan tijd om me op de workshop te concentreren. Vegetatie is altijd problematisch, ik ben benieuwd naar antwoorden, dus de toewijzing is perfect. De ochtend paradeert in een sfeer van rust en kalmerende stilte na de recente onrust. De workshop loopt ten einde, ik heb antwoorden en een struik met geverfd fruit gevonden die ik de volgende dag in een container terug zal komen.
De Hub is schoongemaakt. Binnenkort is het tijd om samen te komen op Nemo voor de laatste foto, dan naar de slotavond waar Hong Kong is aangewezen als gastheer van het 11e Symposium.
Ik kan niet wegkomen, ik zit vast aan mijn rode T-shirts.
Dag 5. Ik heb een roze T-shirt aangetrokken voor een soepele overgang. Het is acht uur, ik maak kans op een echt ontbijt in het hotel. Je moet de trein nemen, de regen oversteken, naar huis gaan, je koffer losmaken en nadenken over het opbergen van alles.
Dag 6. Ik loop naar het station, het is 7:36 uur. Brussel in de zon lijkt erg grijs en als ik over de stoffige stoep loop, voel ik me nostalgisch naar de rode bakstenen en de grachten vol bloemen…. Ik heb het gevoel dat ik gedroomd heb. Ik draag een lichter roze T-shirt. Morgen is het blauw.
Insider: a symposium from the inside.
 By Sonia Vande Velde
They lie in my hands. Shouting, red, new. I'm hot, I'm nervous and I don't really know which way to go. I look around, people look at me, I smile. In the middle of this desecrated church in the centre of Amsterdam, I suddenly realize that this symposium will be very different for me. These t-shirts that I can already feel crumpling a little between my fingers will throw me forward, making me a human beacon. The pass around my neck finishes classifying me : "Volunteer".
It's D-day, the opening day of the 10th Urban Sketchers Symposium. Over the next 4 days, I will be devoting my energy to these hundreds of sketchers who are already converging on the world's new temporary centre. Zuiderkerk. [Zou-der-ke-rik], with accent. The hub.
It is almost noon and Marleen addresses the smiling faces lined up in front of her. An army of 60 volunteers in a very good mood, curious about the experience to come. Some of them have already been on deck since the mornings, their work is already impressive in the rows: 660 goodie-bags filled in 20 minutes. Ovation. And the tone is set: the organization is oiled, smooth and efficient. After the general explanations, the special "heat wave" instructions and a series of questions and answers, it is time to clear the air: in two hours, the participants will arrive to pick up their passes and goodie-bags. I go back to the hotel, take a shower and the opportunity to unpack these famous goodies in preview. What a harvest, the sponsors were generous, pencils, notebooks, markers, fineliners, watercolours, over and over again.
I finally get out, lunch direction! We meet well-known heads everywhere in the streets, along the canals, on the terraces of cafés… Another sketch and it is time for everyone to register and discover the art supplies market, place the first "Adam" stamps in his notebooks. The queues were reduced in no time, the bags and eyes opened wide, the church nave gradually filled.
6:30 pm: it's my first duty! I put on one of the famous red t-shirts, direction the entrance, I'm "usher" for the evening. Sint-Peter-at-the-Gate. Bouncer. Pass holders are welcome tonight. The others from tomorrow morning. People pass by, Julia and I smile "Hello, welcome, hello, hey nice to see you, good evening do you have your pass, thank you so much, enjoy the party" everything is fluid, the evening begins. Ah! This little feeling of being a little behind, we only see the welcome speeches from afar…
Then the sketchers began their exodus from the church, towards Amstelhoek. Smiling eyes, many thanks, spirits are high, positive energy, we receive it in full load. I feel filled again. Once the church is emptied, a sweep of the broom and fold up the chairs, everything is ready for the next day.
Day 2. Direction the first morning briefing. Serious things are about to start, this is the first "real day" of the symposium. It's 8:00 a. m. Marleen, Gail and René follow one another to give us as much information as possible. We then parade in front of them to collect our roadmaps and signs that we cannot use beyond the perimeter of the church: guided tours are strictly regulated by the city and licenses are expensive. My "duty" of the day, I will share it with Natasha: to supervise the Sketchcrawl n°2 "Spui". 9:45 am, coffee and tea in hand (yes, it is hot, but reflexes have a hard life), we wait for our sketches with a firm foot. When they arrive, we send them along the itinerary and set them up for an appointment at 1pm. When the flow dries up, we enter the beguinage, calm, fresh, and dive into our sketchbooks. At 1:00 p. m., we collect the notebooks, they come all the time! One group photo and we disperse the world. There you go, I'm free for the rest of the day.
Day 3, difficult awakening, I float towards the second morning briefing. We feel the fatigue winning the team, fortunately the organization is already becoming a routine and we are already catching our signs. Today, I am leading Jim Richards' Workshop "Draw with abandon", a whole program. With my arm in the air in the middle of the thickening crowd, I meet Patti, Jim's wife, then Jim himself, and sketchers forming a circle. 9:45 am, I am missing a participant. The group moves away, direction Le Spui (one more time!). I still wait for the academic quarter of an hour, turn my panel over and join the group. As I listen to Jim's explanations, I watch the bags, the people, the cars and the bicycles. The group is in the shade, it's already hot. A sketch artist walks away, I'll see if everything is all right, she suffers from the world and the heat, will take a break in a café. After an hour, everything is calm, I settle down to catch up on the exercise. Enjoying this release, the quick drawing, some colors, I'm happy. A few more tips, one last exercise, the students move away for the group photo. It's time to come back to the Hub. Free for the rest of the day, I lunche on, sketch quietly before surrendering to the uncomfortable heat. I go back to the hotel to get fresh or I feel guilty very quickly for wasting my time. I come out then that it makes some more acceptable degrees to sketch alone an extraordinarily flowered garden.
Day 4. The awakening is very complicated. There is also the somewhat anxious feeling of having found one's rhythm mixed with the realization that the last day has already begun. The last morning briefing is now only a formality. This morning, I am framing "Green façades of Amsterdam" given by Monika Wolk. When I reach the small hidden square bordered by a canal, I notice a very sweet scene: a very large long-haired cat accompanies his mistress's walk with a calm and nonchalant step, a very long old lady who moves around with a walking stand. It's a luminous moment from which I can't take my eyes off. Finally the duo is back home, I take advantage of the shade and the lack of crowd to concentrate on the workshop. Vegetation is always problematic, I am eager for answers, so the attribution fits perfect. The morning parades in an atmosphere of peace and soothing silence after the recent unrest. The workshop is coming to an end, I have found answers and a bush of dying fruits that I will come back for the next day.
The Hub is cleaned. Soon it will be time to converge to Nemo for the final photo, then to the closing evening where Hong Kong is designated as host of the 11th Symposium.
I can't get away, I'm attached to my red T-shirts.
Day 5. I put on a pink T-shirt for a smooth transition. It's 8:00, I'm going to have a chance to have a real breakfast at the hotel. You have to take the train, cross the rain, go home, unbuckle your suitcase and think about putting everything away.
Day 6. I'm walking to the station, it's 7:36. Brussels in the sun seems very grey and when I walk on the dusty pavement, I feel nostalgic for the red bricks and flowered canals… I feel like I dreamt. I'm wearing a lighter pink T-shirt. Tomorrow it will be blue.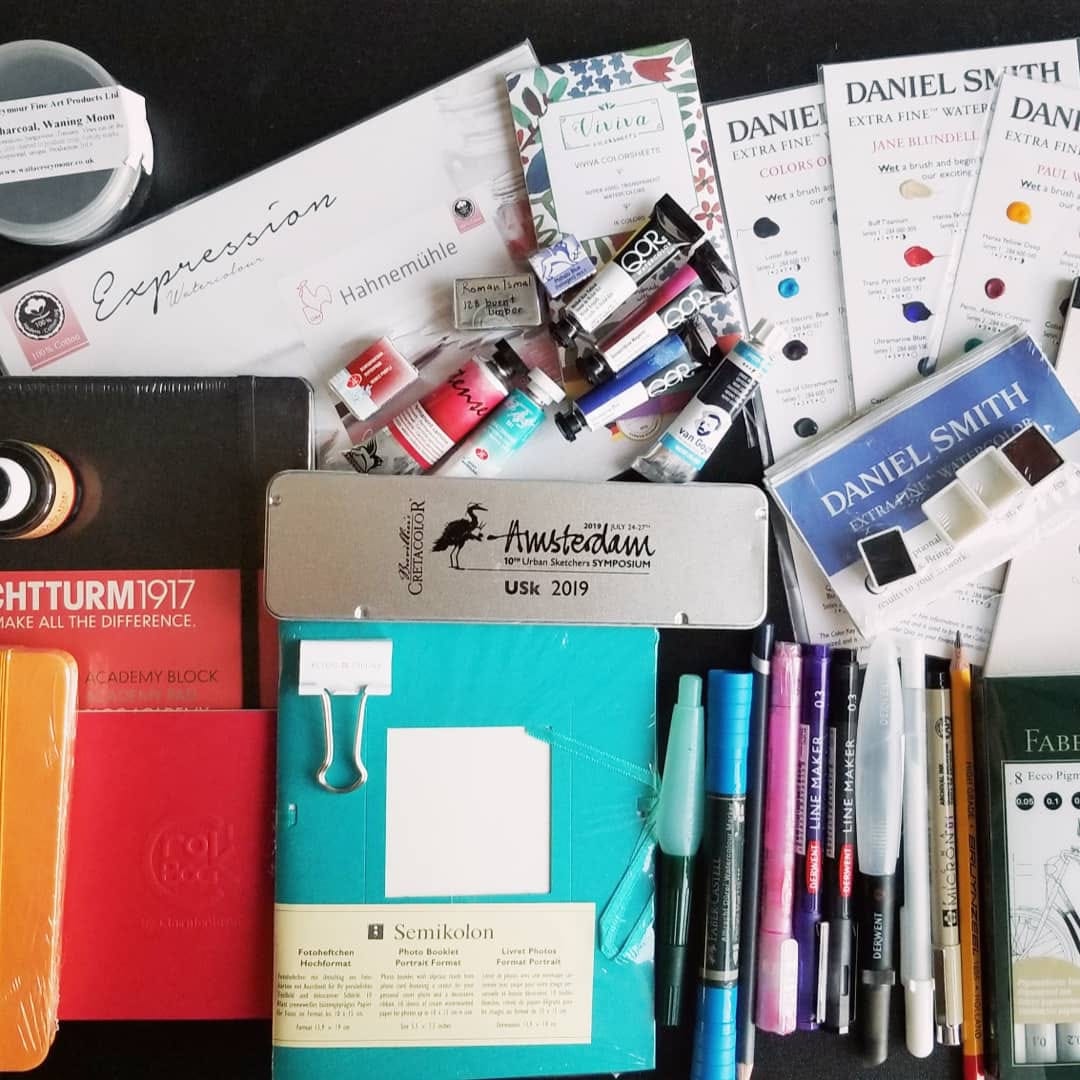 <–The/Le/De goodie bag
Finding some beautifully pigmented berries to make paint –>